Equitable Assessments & Grading
RESOURCES
Have you ever wondered what makes an assessment more effective and equitable?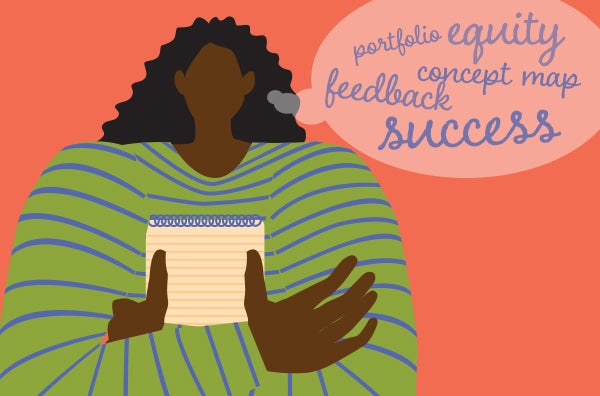 Have you ever wondered what makes an assessment more effective and equitable? Consider adding one or more of the following elements to improve the equity and effectiveness of your assessments:
Explain the learning goals and objectives being assessed. This explanation will improve students' intrinsic motivation by providing the why behind the assessment as well as making connections to future learning and careers.
Ensure the alignment of assessment(s), learning activities, and instructional materials. This alignment will help to deter the fragmentation of the curriculum and ensure students understand the connection or relationship between what they are learning and how they are being assessed.
Create a safe learning environment for students. This safety allows students to take risks, make errors, and engage more freely in the learning process.
Develop opportunities for student-centered learning experiences, including authentic assessments, student choice, and active learning.
Adapt learning experiences to students' individual needs. This adaptation ensures that you can meet students where they are by applying universal design for learning principles to your assessments.
Allow multiple opportunities for students to practice by creating formative assessments. Formative assessments support students in demonstrating proficiency in the learning objectives.
Provide diagnostic (specific, meaningful, and personalized) feedback to students. This type of feedback will motivate and guide students with actionable steps on how to improve their performance.
Communicate the grading criteria to students. Communication of grading criteria will help ensure students understand the expectations and requirements for an assessment.
Describe the grading criteria by utilizing rubrics. Rubrics can help improve the objectivity, validity, and reliability of your grading.
Involve students in assessing their learning. Student involvement will provide students with a sense of ownership and responsibility for their learning.
Collect, monitor, and reflect on student progress in achieving the course learning objectives. The utilization of data to make decisions, a process we refer to as reflective teaching, will ensure continuous quality improvements.
Want to learn more about supporting student success? Please visit the CATE Teaching Guides for research, explanations, best practices, and actionable steps.
Modified on September 12, 2022