Instructional Innovations
The Instructional Technology Innovation (ITI) subcommittee from the ITLC Educational Technology Committee, helps manage the process whereby members of the university community can request university support for software licensing and other IT innovations.
The Forest software platform is used to solicit ideas from the UIC community. Community members can submit ideas on the Forest software at any time. Other community members can upvote suggestions. New ideas are periodically reviewed by the ITI subcommittee.
See ideas or submit an idea here: uic.forestsoftware.com/ideas. Ideas will be moved to the ITLC Education Technologies' Portfolio.
Promotion of Ideas to Campaigns
The ITI Subcommittee will determine when an idea should be converted into a campaign. Campaigns are created within the Forest software system. The subcommittee will review all current ideas in the general channel at its monthly meeting and decide which ones to promote to campaigns. The criteria for promotion can be flexible, and may include community interest through upvotes, relevance to prior discussions at the full committee, and current capacity in the campaign system.
Current Pilot Programs
Pilot programs are an effective, low-cost way to test new ideas and move instructional technology forward.
Management of Campaigns
column 1
Campaigns are used for more in-depth discussion of the issues. The campaign seeks input from appropriately knowledgeable people to answer questions such as:
What software is available that delivers this functionality?
Of these, which are in use at UIC, by how many people, and at what cost?
What are the advantages and disadvantages of each software?
What are the license terms?
column 2
The subcommittee will evaluate software options using a rubric which the subcommittee will create and make recommendations for university support.
Once a campaign is closed, the implementation process may include a pilot program. Current pilot programs are reported on this page. If you are interested in joining a pilot program, contact the CATE Instructional Design Team at LTS@uic.edu
Acadly Enterprise Pilot Program
column 1
Ready to test a new "online classroom?" Many UIC instructors have used the Basic version of Acadly, which is free, to take attendance in the classroom for years. Acadly Enterprise is being piloted at UIC during the Spring 2021 semester to bring an improved experience to synchronous online classes for both students and faculty.
The Enterprise version includes Blackboard and Zoom integration and is available to all UIC professors now. The following is included in the Enterprise license:
Students in your course appear automatically in Acadly
Students can attend your Zoom synchronous classes within Acadly
Students can chat, answer polls or take quizzes during your Zoom session and have those activities available even after the class is over
Students can automatically see their grades for class activities and attendance in Blackboard
For an introduction of Acadly Enterprise for UIC, watch go.uic.edu/UIC-IntroAcadlyPilot (5-minute video)
Here are other getting started videos:
Before you import a Blackboard course into Acadly, you can also try out the product by setting up a trial course.
column 2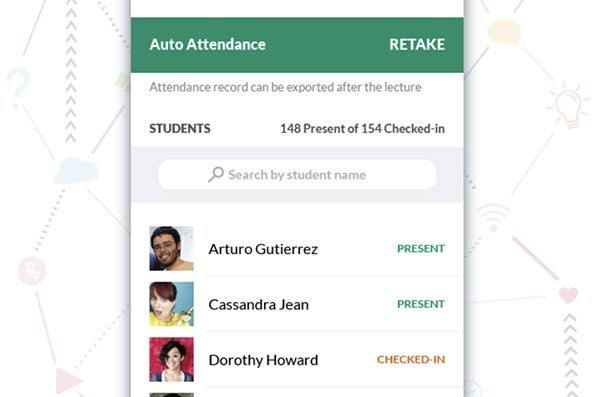 Here are our tutorial videos on how to use Acadly:
For a full list of Acadly features, visit acadly.com/features.
If you are interested in this pilot opportunity, request access to the Enterprise version of Acadly by emailing the Learning Technology Solutions team at LTS@uic.edu.
EesySoft for Blackboard
Column 1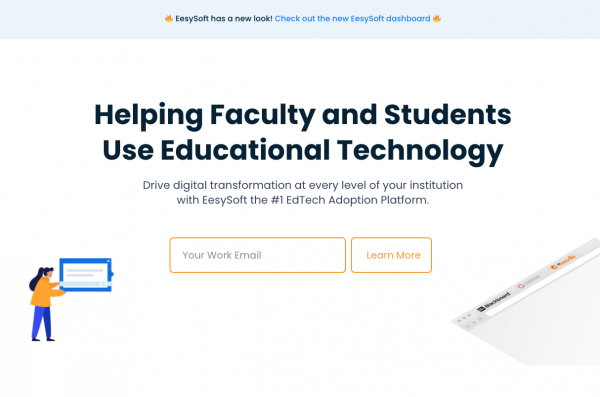 Drive action with inline personalized messages.
column 2
A small team from CATE is working with Eesysoft team to bring Eesysoft EdTech adoption platform up and running in UIC's LMS, Blackboard Learn.
Once EesySoft is implemented, we can create campaigns to communicate with our instructors and students, guide them through any task in Blackboard or any integrated EdTech tool, and facilitate instructional tools adoption.
If you are interested in helping create the first UIC campaign, email the Learning Technology Solutions team at LTS@uic.edu.
Moving from iClicker Classic to iClicker Cloud
Column one
Students can respond with smartphones, tablets, or laptops
Students can respond with iClicker remotes
Classroom polling – Multiple Choice, Short Answer, Numeric
Quizzing / Self-Paced Polling – Self-Paced Polling compatible with iClicker 2 remotes only
Anonymous Polling
Roster & Gradebook
Excel exports
Blackboard (LMS) integration
Demographics – only feature not available in Cloud
Student study guide
Works with the iClicker instructor remote
column 2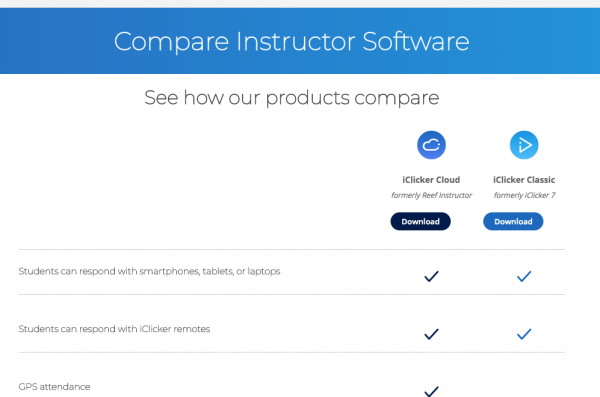 Additional features available in iClicker Cloud*
GPS attendance
Advanced polling question types – Target/Heat Map, Long Answer (up to 140 characters)
Online Gradebook – Access your gradebook from any computer
Cloud backup & storage
*iClicker Cloud requires an internet connection