ABOUT
Leadership Welcome Message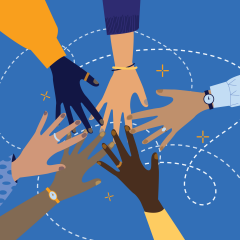 Welcome to the Center for the Advancement of Teaching Excellence (CATE)!

Our goal is for the Center to serve as a teaching hub for the UIC campus. Our vision is for CATE to be both a virtual and in-person space where all those in the UIC community with responsibilities in teaching, including current and future faculty, graduate student teaching assistants, and instructors across a range a undergraduate, graduate, and professional school courses, can find supportive teaching and technology resources and professional learning programs.
Welcome continuation
We encourage you to explore our website, which is an evolving resource, and to engage in events that align with your teaching interests and needs. We also welcome suggestions and ideas for future program development.
Look out this spring 2021 for new website features such as our expanded teaching toolkits, a faculty webinar series on inclusive and innovative online teaching practices, and monthly newsletter!
On behalf of the entire CATE team, we thank you for your steadfast dedication to student success during these unprecedented and challenging times. CATE will work hard to support you and help to get the resources you need to be effective teachers, whether we're online, in-person, or any modality in between.
Sincerely yours,
Erin O'Leary, Executive Director
About
CATE Team Directory

CATE Launch Committee

Contact

LTS Support Office