Campus-Wide New TA Orientation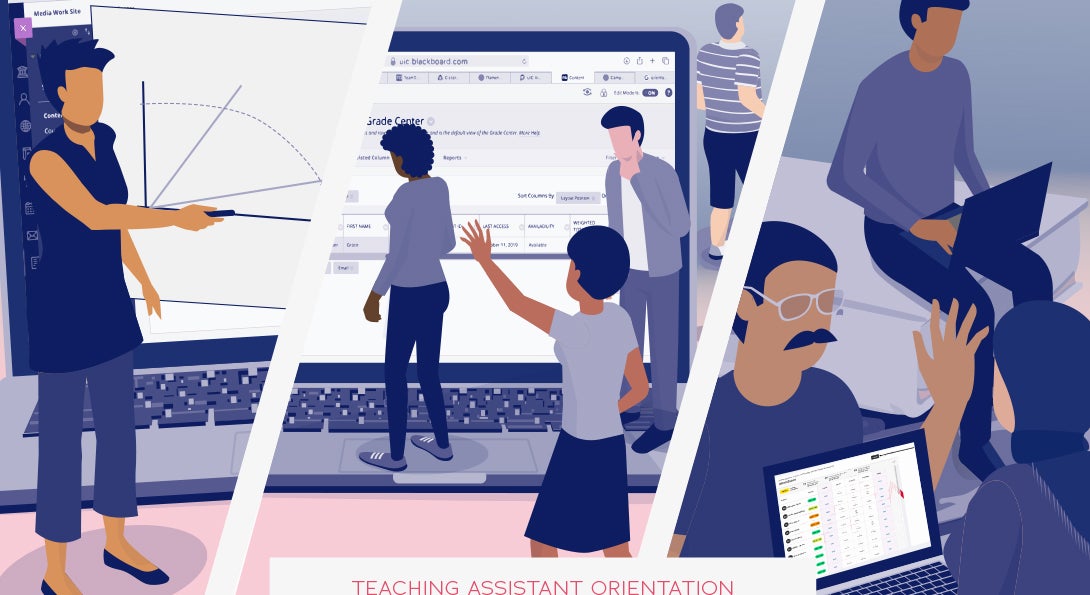 This mandatory Campus-Wide New Teaching Assistant (TA) Orientation is hosted by the Center for the Advancement of Teaching Excellence (CATE) in partnership with the Graduate College. This orientation is designed to supplement departmental-based orientations and training for new graduate student teaching assistants.
column 1
Learn about being a TA at UIC and the resources available to support you in your role
column 2
Increase your knowledge of pedagogy and develop practical teaching skills you can use as a TA
column 3
Meet with other new and experienced TAs at UIC
Who should attend?

column 1

All graduate students who will be TAs at UIC for the first time during the upcoming Fall, Spring, or Summer semesters are required to attend.

When and where is TA Orientation held?

column 1

The 2022 Campus-Wide New TA Orientation is being held on campus on Wednesday, August 17 from 1:00 pm – 4:15 pm CT in Lincoln Hall, 707 S. Morgan St (UIC campus map).

Column 2

Check-in for the orientation will begin at 12:15 pm in the lobby of Lincoln Hall, and the entrance is on the north side of the building. Asynchronous videos and resources will be distributed the week prior to the in-person orientation.

What if I don't know my TA assignment?

column 1

Graduate students expecting to be first-time TAs in the fall, spring, or summer semester of the current academic year are encouraged to attend the TA Orientation.

column 2

Your department is the best source of information for details about your TA assignment.

What if I have an access question?

column 1

This event will take place in-person in Lincoln Hall, 707 S. Morgan St (UIC campus map). Registration and some workshops will take place on the first floor. There is an elevator in Grant Hall with skybridge access to the second and third floors of Lincoln Hall via Douglas Hall.

column 2

Accessible restrooms are available on the first and second floors of Lincoln Hall and Douglas Hall, and an accessible all gender restroom is available on the first floor of Douglas Hall next to the women's restroom.

For more access info or access requests, please email teaching@uic.edu.

How can I get to the orientation (via mass transit, driving, or bike)?

How can I access digital workshop materials during the orientation?

Google Workspace and Box

During the orientation, many materials will be shared via Google Workspace or Box, which are file storage and collaboration tools used at UIC. Prior to the orientation you are encouraged to:

If you have questions or need help with accessing any of these services, please reach out to Technology Solutions.

What If I am unable to attend the TA Orientation?

column 2

You might also be interested in reviewing session recordings from past orientations from any sessions that sound like they might be of interest to you or relevant to your TA duties.

It is also recommended that Graduate students who miss the TA Orientation discuss next steps with their respective departments.

Who should I contact if I have questions or need more information about TA Orientation?

Is there a separate orientation for International TAs?