Learning Principles and Frameworks
1
The teaching guides in this section provide an in-depth exploration of the learning principles underpinning how students learn as well as outline relevant learning frameworks that are useful in building effective instructional experiences that best meet student learning needs.
Supported by decades of research in psychology, cognitive science, and neuroscience, learning principles suggest that students learn best when they are intentionally prompted to access their prior knowledge, supported in a process to uncover misconceptions and address erroneous thinking, provided the scaffolding to connect new information to prior knowledge, are shown how to build conceptual frameworks from their foundational knowledge through interactive teaching methods such as active learning, are offered ample practice and opportunities to engage in productive struggle with course concepts, are given clear feedback on their learning efforts, and are encouraged to take charge of their learning through intrinsic motivation, self-regulation, and metacognitive reflection. Understanding these learning principles helps instructors identify teaching strategies to support students' learning as well as how to create or improve teaching strategies that more effectively foster student learning and achievement (Ambrose 2010).
2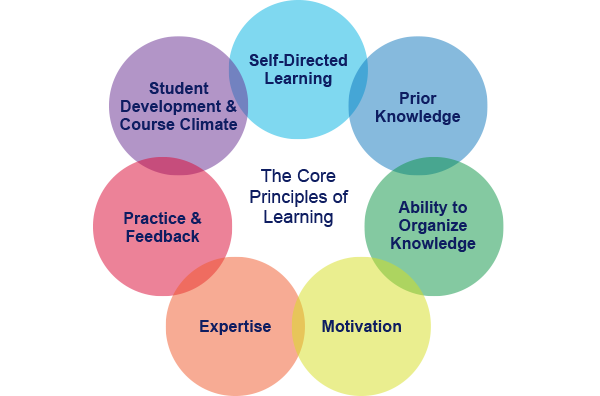 Students also learn best when they understand the organization and structure of the course itself. Learning frameworks are research-informed tools that help structure and organize different aspects of course and lesson design. Learning frameworks assist instructors in crafting specific learning objectives that define learning at increasing levels of complexity and difficulty and help instructors align learning objectives with assessments, instructional materials, and learning activities. Learning frameworks also support course quality assurance and serve as endpoints from which learning experiences can be designed.